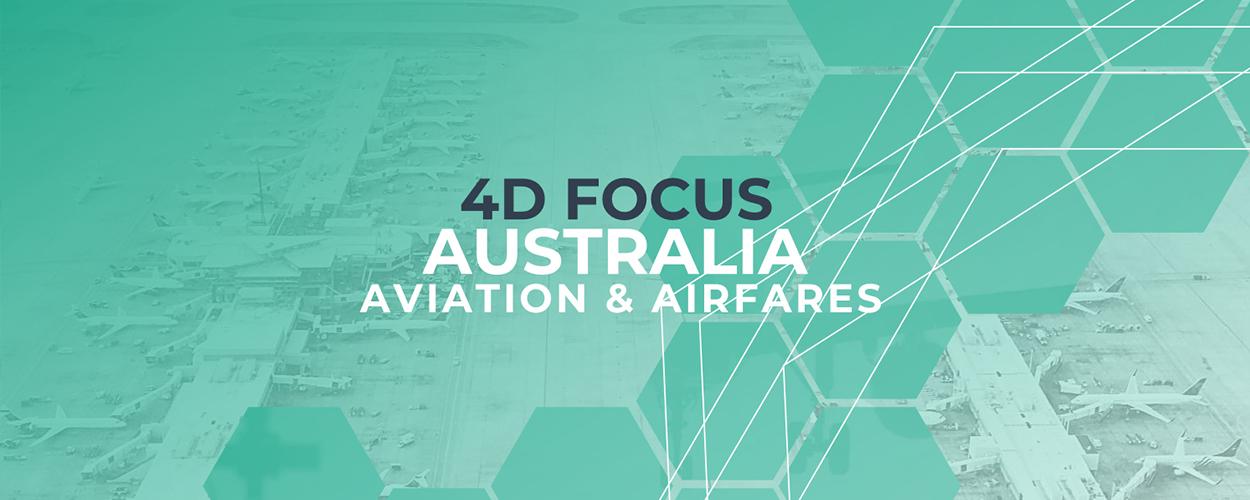 Ticket prices hold another year for international economy class fares, Trans-Tasman and domestic fares continue to rise during a year of mixed challenges and opportunities for corporate travellers: 4D Air Report.
FAST FACTS
Average increase on Domestic economy class purchase fares in corporate increased +7% and leisure +8%.
Fuel costs averaged US$86 a barrel for the year and remain stable into 2019.
Average Trans-Tasman Fares increased for Corporates travelling out of Australia by +$49 and the average price variances of corporate fares to leisure purchased fares is +$159.
9.2 million inbound visitors into Australia during 2018 (+5% on 2017). NSW is the most frequent state visited by inbound travellers.
63 international airlines operated to/from Australia during 2018.
2018 On-time performance:
- Virgin Network – departure 82.2%; arrival 80.4%
- Qantas Network – departure 83.5%; arrival 82.7%.
In the 4D FOCUS report on Australian Aviation & Airfares (hyperlink to CT branded report) the analytics team report the movement of monthly (purchase) fares for Domestic and Trans-Tasman travel in 2018.
Across key routes, purchase price increases were reported for economy class fares on Domestic (+$14) and Trans-Tasman (+$49) for corporate travellers. However, there was a fall in International economy class fares for corporates with a -$16 average purchase fare reduction on key routes.  
4D monitor the purchase fares through Flight Centre Travel Group and the public published fares available from airlines. Using 4D Analytics this report presents a benchmarking study that compares tickets purchased from FLT's corporate and leisure businesses in 2018 compared to 2017 and 2016 airfares.
Whilst 2018 saw increases for the corporate sector, leisure travellers continued to purchase fares significantly cheaper by taking advantage of advance purchase fares, fixed travel plans and accessing flash-sales from airlines.  4D reported that leisure travellers purchased Domestic economy class fares $34 cheaper than corporate travellers and across the Trans-Tasman $158 cheaper. 
Domestic airlines reduced seats during H2-2018 in response to the decline in demand, caused by discretionary household spend softened and housing markets cooling.  Airline load factors remained strong during the year increasing +1.2% to 80.6% for the full year reflecting how tightly airlines are managing their operations.
During the period of October to December both Qantas Airways and Virgin Australia triggered flash sales offering fare package discounts and double loyalty points to stimulate buying.  Traveller response was positive, and for a short term fuelled not a pricing war but a 'value add' competition between the two airlines.
"International airfare prices were trending flat in economy class travel – signalling the third year in a row where travel was yet again affordable," Felicity Burke, General Manager of 4D said.
"However, fares in business class saw +7.5% ($426) increases year on year which is a result of strong traveller demand on key routes and airlines offering a premium product and service on board."
"Corporates are also recognising the 'wear-n-tear' on corporate travellers taking long-haul flights, and in the past two years we have seen an upward trend in travel policies opening up business class travel to more travellers - high frequency, long-haul and overnight flights are the triggers increasing business class bookings with corporates," said Ms Burke.
Graham Turner, CEO Flight Centre Travel Group, said the Travel and Tourism industry was reported as the second largest industry globally in 2018, which is a combined result of travellers and their travel purchases and also the investment in travel companies, workforce and technology. 
"As a global business FCTG is making continued investment in travel technology to evolve how we package, search, select and consume travel.  With projections of 8B travellers by 2037 we are paused to enter the next decade with some exciting changes in the industry," Mr Turner said.
The year ahead will have four distinct areas of focus within the industry:
NDC (New Distribution Capability) for airline content retailing.
Getting Green and how we each travel responsibility and sustainably.
Tailored Technology and the investments being made to make the traveller retailing experience smart, clean and compressed.
The certainty of Economic Uncertainty as the remainder of 2019 plays out domestically post federal election and geopolitical landscapes shift internationally.
KEY FINDINGS IN 4D'S REPORT:
Domestic Travel - CORPORATE Economy Class airfare benchmarking (based on 2018 fare benchmarking against 2017 fares)
MEL – SYD was the second busiest air route globally with 10.8M seats +0.3% growth on 2017, average load factor 85.6 and average purchase price of $205 per flight.
Corporates flying the BNE – SYD route incurred the lowest increase with fares rising by 2%
Those corporates travelling on the ADL – MEL and BNE – MEL routes incurred the largest economy increases of each 9%.
Domestic Travel - LEISURE Economy Class airfare benchmarking (based on 2018 fare benchmarking against 2017 fares)
From 2017 to 2018 the average price of domestic economy class leisure fares purchased through FCTG's leisure division increased by 8%
The biggest increase for leisure tickets was on the CBR – SYD where prices increased +$18 or an average 17% over 2017
Leisure economy travellers flying ADL – SYD saw the smallest increase of +5%.
The 4D report indicates that corporate purchase fares are increasing +6% and Leisure +4% over the next 12 months provided fuel remains stable and the economic conditions remain largely unchanged.