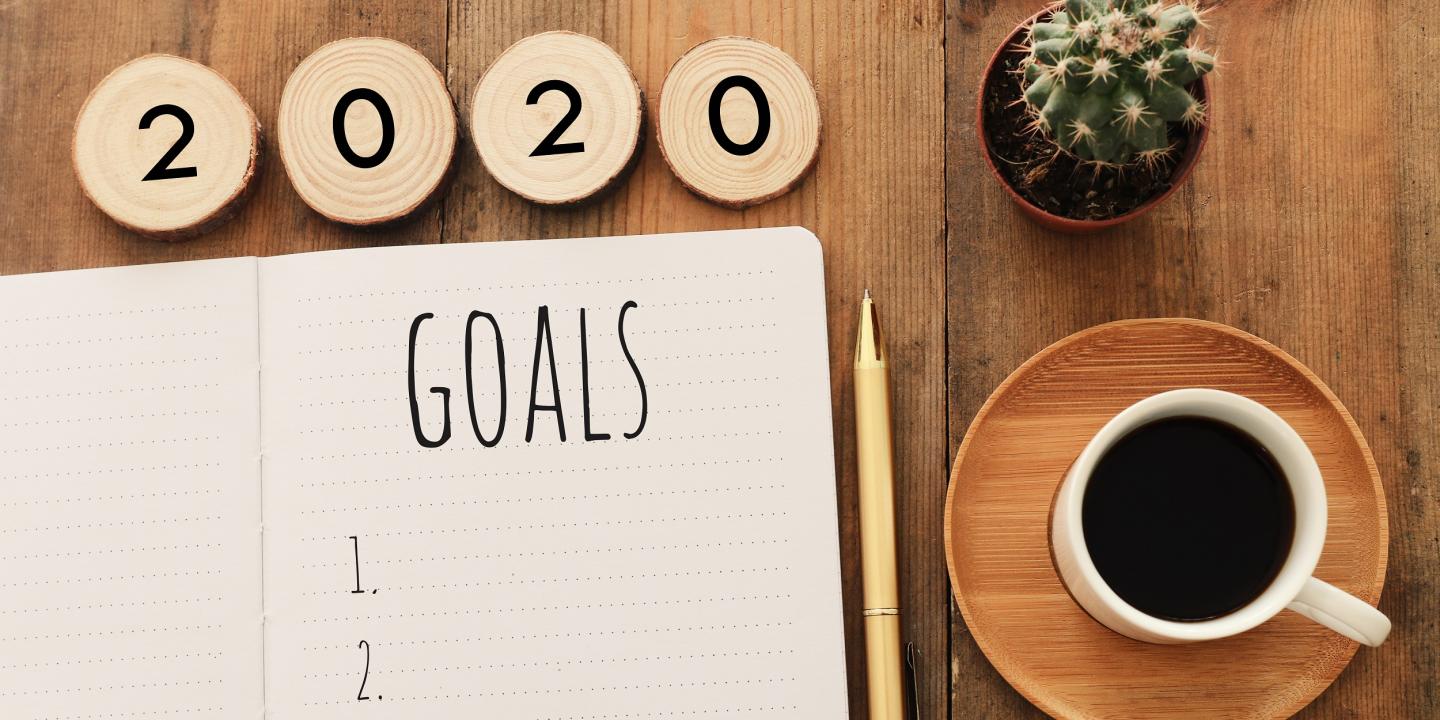 NOW WE ARE UNDERWAY WITH 2020 HOW ARE THOSE NEW YEAR RESOLUTIONS GOING? RESOLUTIONS ARE POPULAR, BUT THEY RARELY LAST. AROUND 80% OF PEOPLE DON'T KEEP THE PROMISES THEY MAKE TO THEMSELVES WHEN THE NEW YEAR COMES AROUND. A LACK OF SELF-DISCIPLINE AND DIRECTION ARE SIGNIFICANT CONTRIBUTORS TO THIS.
Rather than set resolutions for the year, try setting some goals to give you purpose and direction. You can take a leaf out of the book of industry professionals and aim to grow your business; take the opportunity to develop professionally; or use the New Year to focus on personal improvement.
To help you get started, we've collated 20 goals for you to consider aiming for in 2020.
 
1. EXPAND YOUR BUSINESS OPERATIONS.
For Leanne Harwood, Managing Director – Australasia & Japan, IHG, 2020 will be about opening new properties while reducing environmental impact: "Sometimes you start a new year, and the world is your oyster, other times you go in knowing that your goals are pre-ordained. Following years of record signings, we start 2020 ready to open the most hotels we've ever opened here in one year. So, my goal is to open 12 amazing new hotels - an average of one each month - including three fantastic Crowne Plazas, Australia's first Hotel Indigo, and our first new-build voco. Having said that, the goal that I am choosing to own is our commitment to sustainability – we have stepped up our approach to carbon, plastic and food waste reduction in 2019, and all of our new hotels will have that front of mind when they open their doors in 2020 - and beyond."
2. REINVENT CUSTOMER EXPERIENCE.
This will be a key goal for Ian Jones, Commercial Director, Pacific at Avis Budget Group: "For 2020 and beyond, we at Avis Budget Group are committed to reinventing the customer experience, by ensuring it is streamlined, transparent and seamless from beginning to end. As we become an increasingly digitised society, it's important for companies to recognise this and integrate mobile, interactive technology into their customer journey."
3. LEARN A NEW LANGUAGE.
There are over 6,000 languages used around the world, and if you're doing business internationally, you might like to learn a new dialect. Consider learning Mandarin, which is the number one language in the world based on the number of native speakers, or Spanish, which comes in second and is the second-most commonly spoken language in the United States.
4. CONNECT WITH PEOPLE.
For Matthew Cowley, Manager, Corporate Sales at Virgin Australia, 2020 will see connections and conversations taking priority: "With the improvement of data visualisation tools in market, 2020 brings with it the opportunity for me to spend less time in front of spreadsheets and more time in front of people. Conversations can sometimes provide more insightful outcomes related to the what, why and when than an excel worksheet."
5. INVEST IN PEOPLE AND RELATIONSHIPS.
For David Travers, Executive Chair of Scope Global, 2020 brings opportunities for growth, with investment: "My 2020 goals are to continue to invest in our people and technology, and build in-depth partnerships to enable our organisations to become more agile, nimble and innovative. In 2020, I also want to see Maven, Scope Global's professional services business, enable those with disabilities to build their own consulting practices."
6. FOCUS ON GREENER BUSINESS PRACTICES.
For Eoin MacNeill, Vice President of the Asia Pacific region at Hertz, 2020 will be about customer safety and sustainability, as the company focuses on providing more safer and environmentally-friendly vehicles: "Over the next year, Hertz will improve on the greenness of the Hertz fleet, giving customers a greater choice of hybrid and electric vehicles to reduce their carbon footprint. Also, to improve customer safety and experience, our focus will be on procuring vehicles with additional features such as cameras, lane sensors, Autonomous Emergency Braking (AEB), Anti-lock braking (ABS), Traction Control Systems (TCS) and Electronic Stability Programme (ESP)," says Eoin.
7. EXPAND YOUR NETWORK.
If you want to meet new people in 2020, there are some easy ways you can go about this. Join your relevant professional associations and nominate to attend conferences. Networking online is also beneficial, so update your LinkedIn profile and browse through people you may know to connect or reconnect.
8. COMPLETE A COURSE.
Whether it's to work towards a promotion, upskill in a competitive employment market or solely for your own interest and development, taking a class or working towards a qualification can be a worthwhile goal. You can start small and broaden your understanding of many topics with a platform like LinkedIn Learning or go big and enrol in your Masters. Talk to your company about what support is available through their learning and development programme.
9. WIN AN AWARD.
If 2019 was an exceptional year, you might like to consider nominating for an award in 2020. Winning or even being nominated for industry awards can increase your credibility, showcase your expertise and give you opportunities to network at awards shows. Most industry associations run an awards programme, so contact them to find out their nomination requirements.
10. TRAVEL MORE SUSTAINABLY.
It is the topic of the moment and for a good reason; travelling has a significant impact on the environment. Big things are happening in sustainability in the travel industry, and every traveller can play a part; from choosing hotels, airlines and car hire companies that have solid sustainable practices, to reducing food and material wastes, like plastic and paper. If you haven't already, add this one to your goal list for 2020.
11. TAKE MORE HOLIDAYS.
If your goal is to make the most of your time off by taking more holidays in 2020, then get your calendar out and start planning. Being strategic about how you spend your annual leave can mean the difference between the standard 20 and more than 30 days off if you plan around public holidays and long weekends.
12. BE MORE PRESENT WITH FAMILY.
This one can feel difficult to achieve as we straddle the line between work life and home. Some simple tips are to turn off technology when you walk through the door at home (or at least put it on silent), eat together as a family and ask what the best thing was about their day, and stick to your promises – give your family your word that you will be present for a certain amount of time.
13. EXPERIENCE NEW DESTINATIONS.
Us Kiwis love to travel, so why not expand your experiences by travelling to a new destination, either locally or abroad? And if you're making holiday plans with your family, it doesn't get much better than watching your kids as they see and try new things. 
14. LIVE IN THE MOMENT.
For Renae Trimble, Senior Vice President Commercial at Accor Pacific, this is a key focus for 2020: "To be present and live in the moment. I really like this concept as it resonates for me on so many levels, personally and professionally. Taking control of the moment we have right here, right now, is a truly powerful thing. I genuinely believe that for a leader being present is probably the most valuable gift we can give our teams. Let's face it - energy spent worrying about the past and being stressed-out about scenarios that 'might' one day happen is never productive. It pays to be mindful and remember that our brightest future hinges on our ability to pay attention to the present."
15. READ MORE BOOKS.
You might already be among the 72% of New Zealanders that read a book a year, but if your goal is to read more books in 2020, then there is no better time to start. From the best finance books to grow your business and wealth to new release novels, your options are endless. No time to read or prefer listening? Audiobooks count here too, with 12% of readers preferring to listen to their books than read them.
16. BE MORE PHYSICALLY ACTIVE.
According to the Heart Foundation, any physical opportunity is better than none. The peak body for heart health in New Zealand recommends being active on most days, if not all, and aiming for 150 minutes of moderate to vigorous intensity physical activity each week. Start small by going for a walk and taking the stairs; every marathon starts with a step.
17. JOIN A TEAM SPORT.
According to Sport NZ, playing a team sport as an adult has many positives such as improving physical and mental health, and improving a range of physical and life skills that are learned through participation. Rugby? Hockey? Netball? Even bowls; find a team and take to the field.
18. TAKE UP A HOBBY.
Having a hobby can fuel your interests, give you a creative outlet, connect you with like-minded people and challenge you. It can even be profitable if you make goods worth selling. 
19. GIVE MORE BACK.
This is a goal that people consider all year round, as there are plenty of opportunities to give back to community groups, charities and others less fortunate. You could try fundraising and joining in events like the World's Greatest Shave, buy tickets in a charitable lottery, volunteer at an event or provide your skills by taking on pro bono work.
20. PRIORITISE SELF-CARE.
When you're busy working and travelling, allocating time to relax and focus on yourself can seem impossible. But it doesn't have to be. You can quite easily sneak in a few minutes when you wake up or on your commute to do something that will make you feel more relaxed, healthy or happy. And if you need to take more time, like a mental health day, remember that relaxing can actually benefit your business, so put yourself first, and the rest will follow.