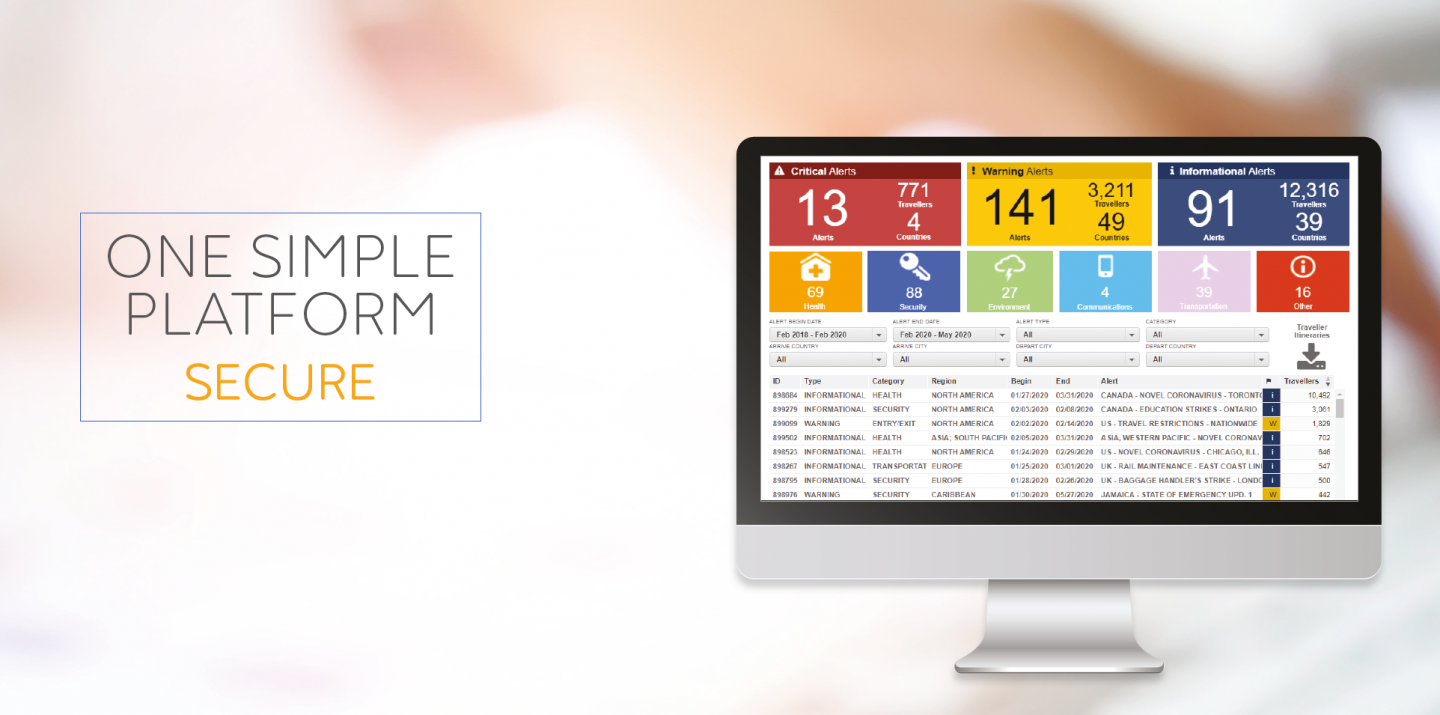 What is Secure?
Secure is a comprehensive travel risk management solution offered through Stage and Screen's online platform. In an increasingly uncertain world where threats to safety and flight disruptions are commonplace, it's important to have a comprehensive travel risk management solution for your organization. Secure supports your duty of care obligations to your employees and provides your travelers with confidence that there is a constant focus on their safety and well-being. The dashboard-based solution delivers alert impact reporting, risk destination mapping, travel security alerts, country/city security assessment ratings, and location sharing. 
Alert Impact Reporting
This is a feature that gives an overview of what alerts are currently active and which travellers may be affected.
 
Location Sharing
Through the compilation of itineraries, Secure is able to inform you of your traveler's whereabouts at all times. Furthermore, through the mandatory use of the SAM app on all trips, travelers location will be shared using the share my location feature, ensuring their safety and well-being. 
Risk Destination Mapping
The Risk Destination Mapping allows you to get a broad understanding of where your travelers are by region. For example, if a snowstorm is affecting New York City, you might want to get a broad view of how many travellers you have in New York, New Jersey, or Pennsylvania.
Travel Alert Map
This feature gives a broad overview of which regions around the world are being most affected by travel alerts. You can sort alerts by "Country" to get a brief overview of how many alerts exist in the country that you're travelling to the most.
Country/City Security Assessment ratings
These ratings are meant to help you be proactive in assessing your travel program. For example, if a traveller from Brazil found a cheap fare from Rio to Miami through Caracas in Venezuela, this tool gives you the opportunity to assess that Venezuela is a category 4 risk destination to provide the traveller with feedback on their decision
CSAR Overall Ratings Assessment Levels
 This page gives you the opportunity to better understand how we categorize each country and the risk involved when traveling there.