Star of the show: 

Stage and Screen lands NTIA Award for 

Most Outstanding National Travel Management Company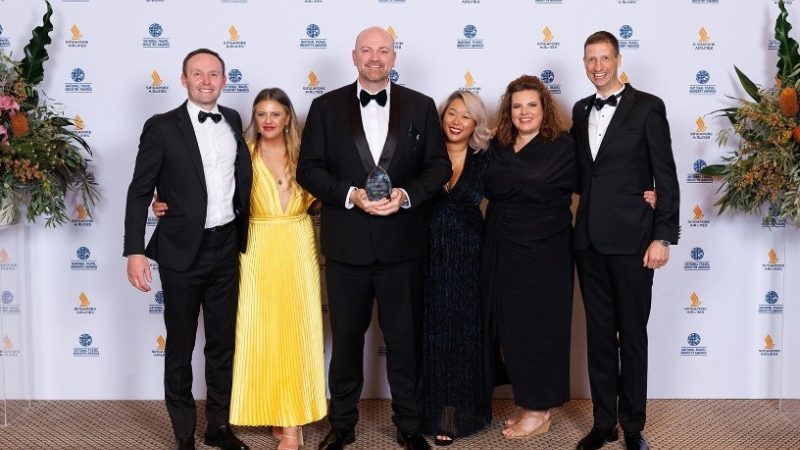 20 November 2023 – Stage and Screen has proudly received the Most Outstanding National Travel Management Company award at the Australian Travel Industry Association's (ATIA) National Travel Industry Awards (NTIA) 2023 – the second time the iconic business has won the award.
The leading travel management company for the entertainment and sport industries was recognised and rewarded for excellence in Australian travel at the industry's most prestigious awards program and celebrated at a Gala Dinner in Melbourne.
"Our experienced team is entirely committed to the needs of our customers, and I'd like to dedicate this award to every single one of them, because it's a testament to their incredible hard work and excellent customer service," said Stage and Screen General Manager Adam Moon."
 "We're always listening and, more importantly, hearing what our customers have to say about how and why their landscape is changing.
"As the travel and entertainment industries evolve, so too does our approach to customer service. We prioritise productivity, flexibility, technology innovation and relationships, and we never compromise on our exceptional quality of service.
"At the heart of our business is a genuine connection with our customers, and I'm incredibly proud that our industry and customers have recognised that with this award."
"These awards reflect the hard work and passion of our people, who always place our customers at the centre, and strive to deliver exceptional travel experiences; this recognition is a testament to their support and loyalty, and that of our customers," said Flight Centre Corporate MD Melissa Elf.
"We're thrilled that Stage and Screen has received the award for Most Outstanding National Travel Management Company and to be recognised by our peers and customers for our dedication and innovation in the travel industry is truly humbling.
"As our corporate brands go from strength to strength, we look forward to continuing to provide the best travel solutions and service across the industry."
"Congratulations to Stage and Screen and the team on being selected as award winners. This honour is an outstanding achievement given the level of excellence shown by all the finalists," said Australian Travel Industry Association CEO Dean Long.