Is Premium Economy worth it?
We think it is....with the right airline.
In 1991, Taiwanese airline EVA Air introduced the first Premium Economy cabin on the market. It was designed to bridge the gap between the pointy end and the rest of the plane, promising a similar seat to Business Class but with Economy Class service. Now that Premium Economy has been in the market for more than 30 years, and has been adopted by almost every major airline, has it changed?
In short – drastically. But there's a huge variation across airlines. Some carriers treat Premium Economy as a downgrade from Business Class and other carriers see it as an upgrade from Economy. On some airlines, the seat is the same as Economy, but you'll receive extras like priority check in, meals, alcohol and amenities kits. And on others, the seats are reaching new levels of comfort, bringing you closer to that premium cabin experience.
As the concept of Premium Economy has evolved, so has the pricing. So, is it worth the extra spend? If you choose to fly with Emirates, the answer is yes. With the leading Premium Economy product on the market, Emirates takes your onboard experience to the next level.
Inside the Emirates Premium Economy cabin
The five-star experience starts the moment you arrive at the airport. Walk straight up to the dedicated check-in area, grab your boarding pass and be on your way. While a Premium Economy ticket doesn't include lounge access, passengers can purchase a day pass or use their Emirates Skywards membership to enter.
As soon as you step into Emirates' Premium Economy, you'll realise this is something special. In fact, it wasn't too long ago that these seats and fit out were standard for Business Class on most airlines. Crucially, Premium Economy occupies its own cabin. Many airlines just stick a few rows at the front of their regular Economy section. But here, you'll feel like you're in your own exclusive retreat. Sit in your plush cream leather seat and enjoy your welcome drink – this is going to be a good flight.
The airline launched Premium Economy in mid 2023, first on the A380 and soon on select 777s. Luckily for you, this swish new cabin is available on two of Emirates' most popular routes out of Australia, Melbourne to Dubai and Sydney to Dubai.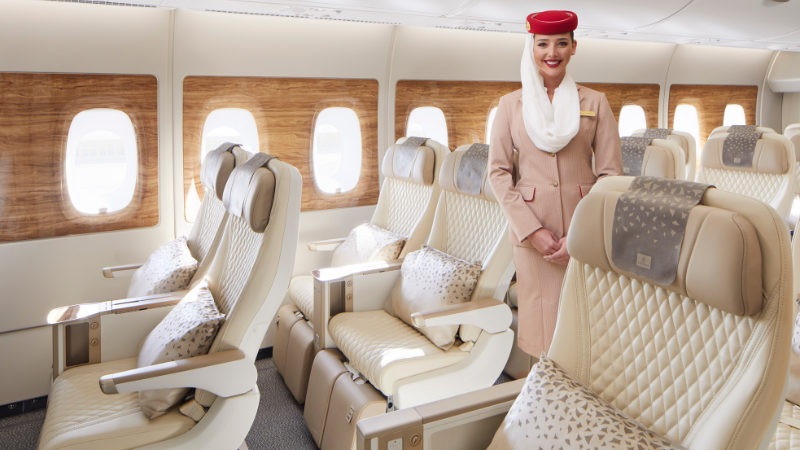 Superior seat – and why it matters for you.
We know our clients need that little bit extra when they travel. Athletes need more space to stretch out and performers need to arrive fresh for their next show. A larger, more comfortable seat can make all the difference.
Emirates: Seat is 19.5 inches wide and offers 40 inches of legroom. Six-way adjustable head rest, and calf and footrest built into the seat. Extra features like a starry night sky in the cabin, oversized pillow and sustainable blanket made from recycled plastic bottles.
Another award-winning airline: Seat is up to 18.5 inches wide with 38 inches of legroom. No starry skies.
Fabulous food – and why it matters for you
Many comedy routines have been written about airplane food and it's usually easy to agree. But in Emirates' Premium Economy cabin, things couldn't be more different. The food and beverage service here is on par with many Business Class offerings, right down to the proper tableware. We know athletes and entertainers often have special requirements or just require a fresher, healthier menu all round, and that's all possible here.
Emirates: Delicious, multi-course meals are served on Royal Doulton china with stainless steel cutlery wrapped in linen. A polished woodgrain table folds into your armrests (no awkward seat back tables) and there's a side table for your drink. Sip on Chandon sparkling wine and fine vintages from the Business Class list, and finish with chocolates and liqueurs.
Another award-winning airline: Standard Economy plating, three main course options and limited wine selection. Option to choose your main course up to 24 hours before you fly.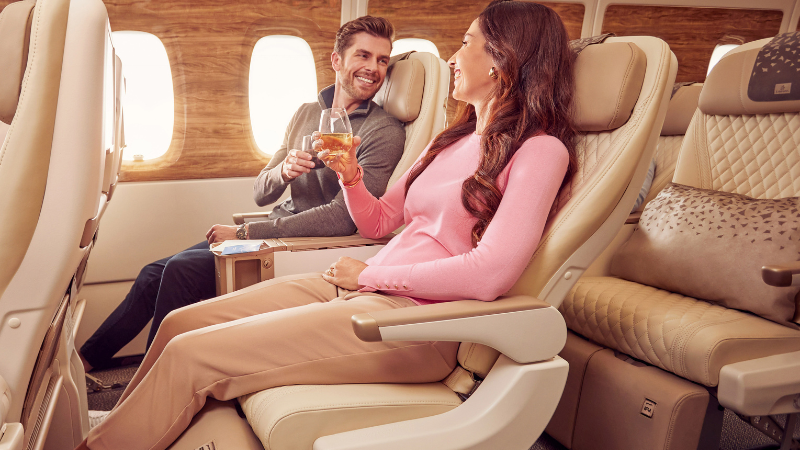 Entertainment – and why it matters for you
We know many of our clients are immersed in the world of entertainment and sport, so they expect that to continue when they travel. That means on demand streaming on a state-of-the-art screen that's easy to use and a pleasure to watch. Once again, Emirates is the standout.
Emirates: 13.3-inch HD touchscreen with thousands of entertainment options. Emirates has more movies than any other airline and also live sport, like NFL, NBA, Premier League and rugby union. Use the provided noise-cancelling headphones or connect your own via Bluetooth. The latest A380 aircraft also features a higher-speed Wi-Fi service.
Another award-winning airline: 12-inch touchscreen with a large selection of on demand entertainment.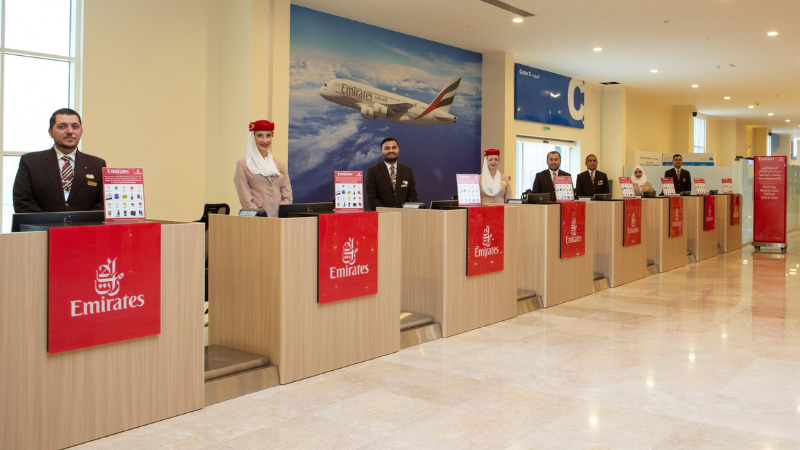 Baggage – and why it matters for you
Bringing a lot of production equipment with you? Or maybe you're responsible for the team's whole kit? Most airlines offer similar baggage allowances across Premium Economy, so here we think it's important to compare the difference between a standard Economy ticket and the upgrade. You'll probably end up saving money on excess baggage fees! Plus there's the extra spacious overhead bins and handy storage nooks you'll get to use all around your supremely comfortable seat.
Emirates Premium Economy Australia: 35kg
Emirates Economy Australia: 20kg 
Emirates Premium Economy The Americas: 2 pieces up to 23kg each
Emirates Economy The Americas: 1 piece up to 23kg
Ready for a travel experience that goes beyond the ordinary? Book your Emirates Premium Economy now and redefine the way you fly.
Choose excellence, choose comfort – choose Emirates for your next adventure.