Get ready for take-off
Three, two, one …ACTION. At 35,000 feet.
Stage and Screen's COVID travel support suite for clients is a smooth blend of travel tech, intelligence and people power
The mosh pit is back. Fans can't wait to see their next live event and artists are ready to get back on the road. But are they?
What's ahead for the entertainment and sports sectors is like nothing the industry has experienced before. Expect more travel complexities, testing requirements, social distancing, private charters, a bigger emphasis on traveller safety and security. Throw in a high dose of COVID-related travel anxiety. If your tour manager or your travellers have become more road worrier than road warrior. Don't stress. We know how to be the strength behind the scenes and get everyone back in the sky with confidence. Stage and Screen has created a comprehensive suite of support tools and resources to help 'uncomplicate' post-pandemic travel.
General Manager for Stage and Screen Australia, Adam Moon, said one of the most important resources for customers returning to travel or planning trips, was the new COVID Travel Hub. The Hub includes a page for domestic travel, international destination guides, traveller checklists plus handy country search tools and interactive maps for users to search for the entry requirements for the destinations they're travelling to.
"We know so many of our customers are ready to jump back on a plane for events and tours, but there is also still a lot of uncertainty around travel. Border and testing requirements for domestic and international travel is constantly changing," he said.
"Having a travel management company you can rely on for support has never been more important. We have traveller tools and technology to make sure travel bookers, tour managers and travellers have accurate and easily accessible support and information at the time of booking, prior to travel, during their trip and when they get home. And of course, help is available however you would like to receive it - in person from our Travel Managers, online or through Sam our award-winning travel assistant app."
Stage and Screen's suite of COVID support tools and resources include: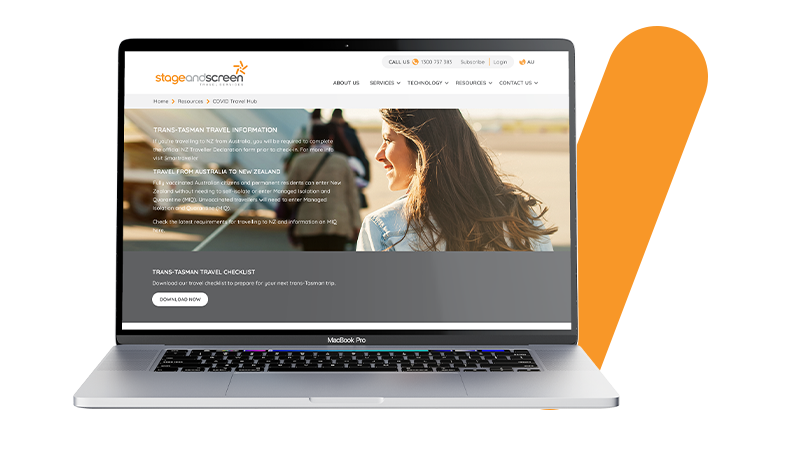 Travel Intelligence: COVID Travel Hub
Before travelling domestically or internationally be sure to visit our COVID Travel Hub, which includes a country search tool that provides real-time data based on where you're travelling to and from. Our COVID Hub also includes an interactive map that visually showcases which countries are open for travel and what entry requirements are in place. Both tools are powered by Corporate Traveller's partner and global travel safety organisation, Sherpa. On the site you'll also find pages dedicated to domestic and international travel, destination guides, as well as super handy traveller checklists.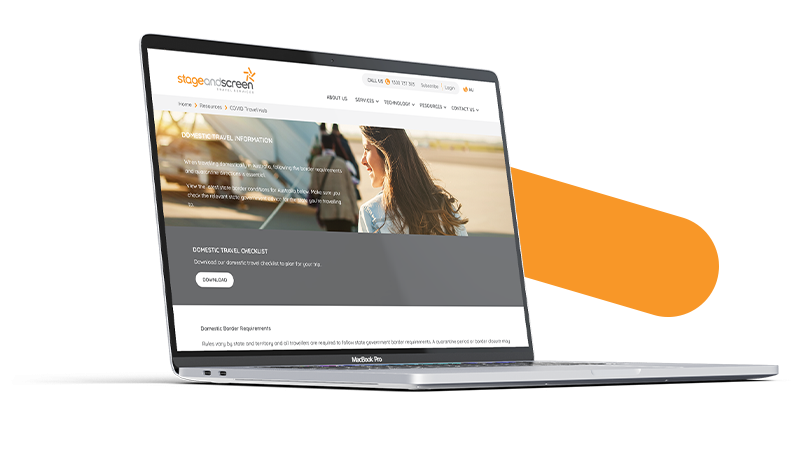 People power: The experts leading our specialists
Stage and Screen's team is backed by a new internal online hub and travel team, dedicated to providing expert COVID-19 travel advice. The initiative provides Stage's Travel Managers with a single online location and team of senior travel experts on standby to help with complex COVID customer travel requests or itineraries. The internal team covers everything from country COVID requirements to supplier policies and crisis support. Our dedicated COVID team ensures all Stage and Screen staff know where to find relevant information and what advice to provide customers that's above and beyond standard travel information or processes.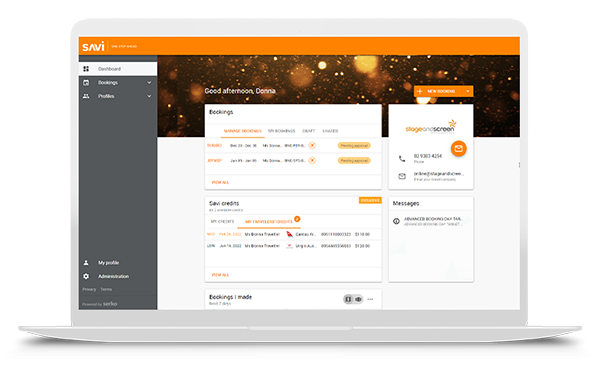 Online booking tool support: Travel Safe with Savi
Stay updated on domestic travel requirements with Savi's new TravelSafe functionality. TravelSafe provides detailed border restrictions and entry requirement details for users travelling domestically in Australia. Visible as a pop-up at the top of the booking availability screen, TravelSafe is powered by our travel safety partner, Sherpa. The domestic travel data draws on intelligence from over 2,000 official sources including government, travel and professional service organisations. Users simply click 'View Requirements' on the banner at the top of the booking availability page to see what's required for interstate entry, transit and arrival. Guidance covers passport, vaccination, COVID-testing and quarantine requirements.  
Savi's functionality also supports passenger contact tracing, has a 'Clean Hotels' indicator and displays COVID-19 policies for airlines at point of booking.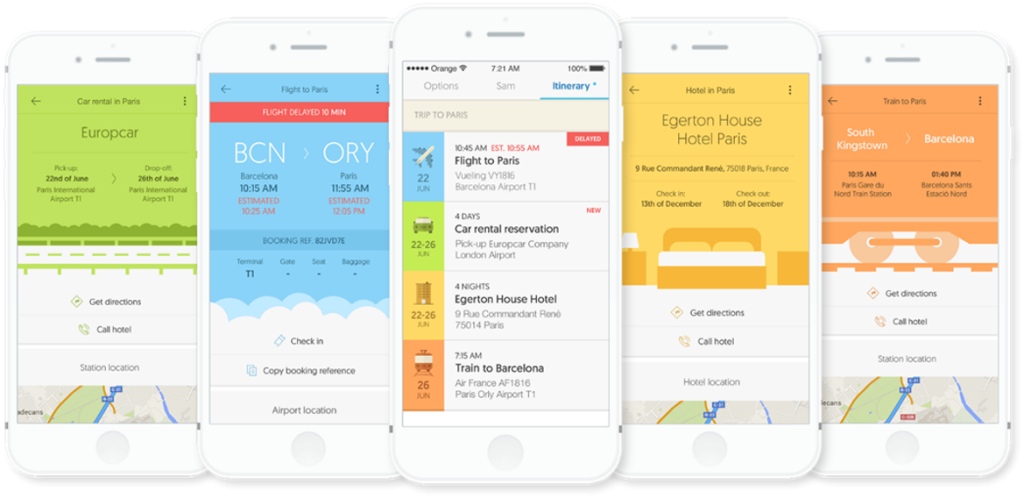 Mobile travel assistant app: Have you met Sam :]
Sam is a powerful pocket travel assistant app powered by AI that makes sure your travellers have all the essential information they need at hand. Itineraries, notifications, updates, tips and alerts – they're all delivered in real time, 24-7. Flight status change? No problem. Traffic jam on the way to the airport? Too easy. Border closure or travel restriction? Sam has it covered. Even better, travellers can manage their travel on the go, including making bookings - all from the palm of their hand. Every traveller and Travel Booker needs to make friends with Sam :]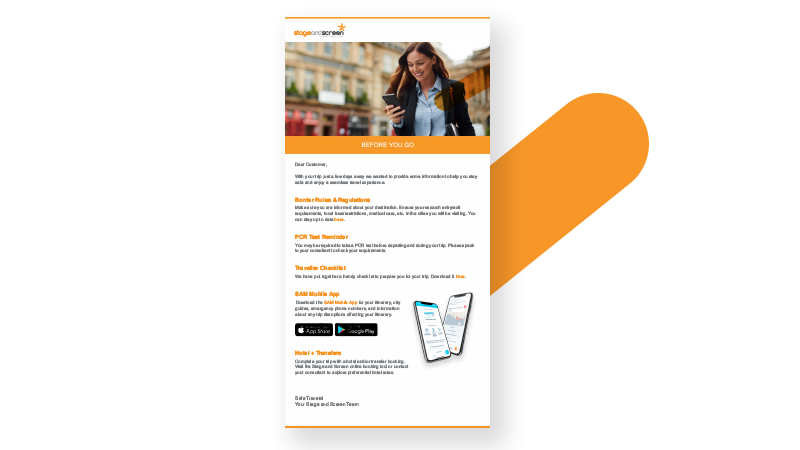 Pre-trip reminder emails
Stage and Screen customers receive handy pre-trip reminder emails. These helpful emails include all the key things you need to consider or do before travelling, such as check border, vaccination and COVID testing requirements. Our emails also include links to our traveller checklists and Stage's awesome travel assistant mobile app Sam.